Rinoplasty Surgical Review
http://rhinoplastybeforeandafter.org/49-2/
948 UserPageVisits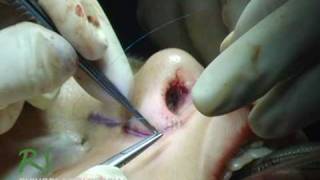 Admin
October 31, 2015
Rhinoplasty is surgery on the nose. The procedure can be done for medical reasons, breathing problems, birth defects, or injury, or it may simply be done for aesthetic cosmetic purposes.
Rhinoplasty Procedures
There are two types of rhinoplasty procedures. The first type is known as an open procedure. With an open procedure, a minor incision is made between the nostrils, enabling them to lift that portion of nasal skin off the nose for better visibility of the cartilage and bone. This procedure gives the surgeon more control over the patient's nose because they are able to see the bone and cartilage. An open rhniplasty will leave a scar; however, for a skilled surgeon the scar will not be visible from a standard viewing distance.
The other type is closed rhinoplasty, where incisions are made on the inside of the nose, thus concealing any evidence of surgery. However, in some cases your surgeon may not be able to get to the target areas in order to perform the surgery sufficiently.
There are advantages and disadvantages of either type of rhinoplasty surgery. Therefore, it is necessary to consult with your surgeon to determine which type would be best suited for your situation.
Finding the Right Surgeon
Although nose shaping has been around for many decades, it does require incredible ability by the surgeon. Your doctor should have the proper certification and experience necessary to perform the given procedure.
Interview at least two or three plastic surgeons, he, or she should be board certified, and have a minimum of 5 years experience. During the consultation, ask how many rhinoplasties they have done in the last year, consider how well the doctor listen to your ideas, ask to see examples of their work and what can they do for you.
Likewise, if you are going to have general anesthesia, be sure the American Board of Anesthesiology has certified your anesthesiologist. In addition, make sure that you can be rapidly admitted to a nearby quality hospital in the event of unforeseen complications.
Rhinoplasty Fees
Surgeons fee: $3,500
Anesthesiologist: $700
Facility fee: $800
Average Total Cost: $5,000
Rhinoplasty is usually not covered by insurance unless the procedure is performed for medical reasons, e.g. birth defect, or accident. Therefore, you should consult the surgeon's office about payment plans or seek out a finance company that specializes in medical loans. If your insurer says that it is covered, be sure to get pre-authorization from them before the operation.
Complications
If you are careful and selective about whom you choose for your surgeon, anesthesiologist, and of course operating facility, there is only a less than 5% chance of any complications. However, a possible risk you will need to consider and accept before having cosmetic nose surgery is revision rhinoplasty. First, because nose surgery is a difficult procedure and secondly, following the surgery your nose can change in ways which cannot be predicted beforehand. It is recommended to wait at least one year if a revision rhinoplasty is needed.
Recovery
A splint is applied to the top of the nose to keep it in place while healing and gauze packing is inserted for a couple of days to protect the septum from moving and minimizing bleeding. The splint is usually removed within a week. Anti-inflammatory medication and a painkiller are prescribed for swelling and discomfort, as well as an antibiotic to prevent infection. You should also apply ice, elevate the head, and avoid blowing your nose and wearing eyeglasses.
Finally, few people ever regret getting a nose job. It has the potential to create a new appearance and lend new confidence. Just be careful
It would seem that it is futile to seek for perfection in this imperfect world. What is ideal may sometimes be so hard to attain, and it somehow borders already on the line where it is totally unreachable.
However, cosmetic surgery somehow managed to bring the world of idealism into a spot within everyone's reach.
Though there are many facets to this issue, there is one interesting procedure in plastic surgery that promotes the acquisition of what is ideal. This surgical procedure is called rhinoplasty or nasal reshaping.
Rhinoplasty is considered to be the most complex operation a cosmetic surgeon has to deal with. Its aim is to improve the function and the appearance of a person's nose by removing a hump, changing the tip or bridge, narrowing the span of the nostrils, and other modifications.
What patients and surgeons alike are trying to really achieve in a rhinoplasty procedure is the acquisition of the ideal nose. It is needless to say that the ideal nose is patient-specific since it is largely dependent on the facial structure of the patient. At first glance, it is quite difficult to really determine the best nose for a certain person given the diversity and complexity of individual cases.
Fortunately for plastic surgeons and patients, there is a mechanism provided for such purpose. According to Dr. Becker of The Rhinoplasty Center, the ideal nose is that which is harmonious with the other favorable facial features. It is with no doubt that anyone who is not happy with his nose certainly has this perception of the ideal nose, which he or she would like to have. Aside from practically correcting certain defects and imperfections, one longs to have his or her nose blend well with his or her other facial features. A nose doesn't exist by itself. It has to complement with the eyes, mouth, and other important areas of the face.
Certain metrics are followed in order to determine the best nose for a certain individual. Though this quantitative technique does not really cover everything there is to know about having an ideal nose, they are used to help surgeons come up with the best plan for his patient's surgery.
Specific measurements that need to be looked into in determining the ideal nose are employed. These are the nasofrontal angle, nasal projection, nasofacial, and nasomental angles to name just a few. All these are noted down by the plastic surgeon to ensure precision. Normally, the nasofacial angle should be 36 degrees. However, certain considerations have to be taken into account before directly applying such rule to the patient. This is where the plastic surgeon's expertise and sound judgment come into play.
Employing this mechanism along with the recent developments in facial plastic surgery, that elusive perfect nose sure is now an arm's length away. With a board-certified facial surgeon, and the latest in rhinoplasty instruments and techniques around, everyone has now a chance to grab that, which was once considered unreachable, and irrational in this realistic, and non-idealistic existence.
Cosmetic surgery on the nose is a commonly performed procedure. If you decide to have it, you need to know what to expect after a nose job.
What to Expect After A Nose Job
After a lot of research, you have finally decided to get nose job. Of course, you've heard about the surgery itself, the costs involved, and the expectations you can have as results from this type of plastic surgery. The next thing you should consider is what to expect after nose job.
Your image immediately following surgery will be startling. You will be bruised and swollen after it has been completed. You probably won't like what you see in the mirror. Your nose might be packed with gauze. You will have a cast on your nose to support the healing nasal structure. Your doctor will tell you whether or not to keep ice or cold compresses on your nose, some people feel that bags of frozen peas make a good ice pack, as they mold to your face.
Your nose will be stuffed up, and you'll have to breathe through your mouth. You'll also feel some pain from the procedure, and you may become nauseous or throw up. This can happen either from swallowing blood during the surgery, or from the after-effects of anesthesia. In five to seven days, your surgeon will remove the cast from your nose and you'll be able to see your new nasal area. It will still be bruised and swollen, and you'll want to take care to not jostle or hit your healing nose, as it will hurt.
In about ten days (longer if you're a smoker), your bruises will fade and you should feel ready to face the public if you haven't done so already. You might want to cover any remaining bruises with color-corrective cosmetics. Your surgeon will often make recommendations regarding which cosmetics are right for your skin type and bruising pattern.
It can take two to four months for all swelling to go down from the surgery. In some cases, it can take up to a year before you'll know exactly what your nose is going to look like. Some people become upset with the look of their post-operative nose in these first months, as crookedness and bumps may show up during the healing process. Most surgeons recommend against going through any other procedures, such as revisions, for at least nine months after having nose job. The healing process can simply take this long, so you will need to have some patience.
Nose job is the type of plastic surgery that has a very high success rate. In this case, success is defined as meeting the reasonable results the surgeon predicted prior to the surgery. That being said, you have to understand what to expect after nose job and have some patience.